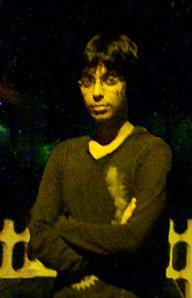 I'm Dev. I've been interested in graphics, gaming and programming since I was a kid growing up in Saudi Arabia. I did my schooling there. Not much as changed since then. My brother and I grew up doing almost just the 3 of these things.
I started out graphics with Ulead 3D in the 6th grade. I eventually moved onto 3Ds max, Realsoft 3D, Terragen, Vue xStream and Photoshop. I started learning programming in VB6 in the 6th grade, too. I later moved onto VB.net and C++. You can find my works in my portfolio.
I did my undergrad at CEG (College of Engineering, Guindy, Anna University, Chennai). During this time, I kept programming small utilities, college projects and other things alone. I also worked on projects with my brother, projects which I'm still working on today. I'll just shortly say that I'm working to finish what we've dreamt of doing since we were kids.
I'd love to hear from anyone with similar technical interests or anyone who'd just want to know more about any of my programs or research papers. I'm currently doing my master's in computer science at the University of Florida.
MY INTERESTS
Programming
Probably my single greatest interest. I guess I've explained enough about this through out the site.
Graphics
I love surreal/fantasy, landscape and anything deviant in general. I now mainly use Vue xStream, Photoshop CS6, 3Ds max and Terrgen 2.
Drawing
I enjoy sketching, pencil shading and drawing surreal/fantasy pictures, portraits, photorealistic (well, I try) and other stuff
Musical Instruments/Music Composition/Singing
I play acoustic guitar (Yamaha FX360c), 12 string acoustic (Washburn WD10S12 handcrafted edition), lap steel guitar, electric guitar (Yamaha PAC012 DLX + Boss ME80 FX pedal + BeatBuddy) and (not so good) Piano. Music composition and singing.
Gaming
Games were the starting point of my love for artwork, computers and graphics. I used to play dos games like Aladdin, Lion King and stuff when I was 4 or so…. Well, I never stopped. Apart from adventure games and fantasy games like Curse of Monkey Island, Uncharted, Last of Us, Crash Bandicoot, Spyro and so on… I'm Counter Strike crazy.
Poetry
I started writing poems in the 10th grade. I started out by writing randomly and then moved on to writing poems for each of my artwork.
Story Writing
I was interested in writing stories since middle school, I guess, but, I started writing stories only in college. I started writing a computer themed novel back in school, I kept writing it through college but, I haven't completed it yet. I completed short stories, though.
Card Origami
My interest in Origami started in middle school, when I was trying to come up with ways to make a unique father's day card. I make my own pop up cards now, everything from the envelope to the contents.